Graduation Day – receiving my 500 hour certificate
I felt so welcomed by everyone in the class on Tuesday. It certainly made my transition home much easier. The two weeks of yoga therapy training were much more intense than I could have ever predicted. Our subject matter consisted of Yoga for Depression and Anxiety, Grief, Pain, and Cancer. I felt like I was dragged through the mud at times and lifted to the skies at other times. Balance was forthcoming from some of our 'out of classroom' romps; like feeding turtles, numerous hikes through the hills, river wading, chilling in Austin, countless opportunities to laugh and love one another, and of course, delicious vegetarian and vegan meals.

One of the main themes from the training, which I learned, was the idea of holding space. Sacred space for our clients, our students, and ourselves. I recently came across this article which shares the author's story as well as 8 suggestions for holding space for somebody. Read through and try it out at your own (s)pace and time.

http://heatherplett.com/2015/03/hold-space/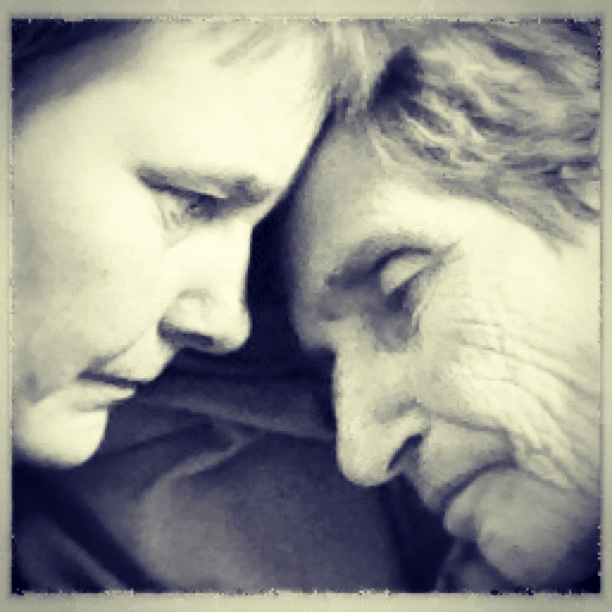 When my mom was dying, my siblings and I gathered to be with her in her final days. None of us knew anything about supporting someone in her transition out of this life into the next, but we were pretty sure we wanted to keep her at home, so we did.
While we supported mom, we were, in turn, supported by a gifted palliative care nurse, Ann, who came every few days to care for mom and to talk to us about what we could expect in the coming days. She taught us how to inject Mom with morphine when she became restless, she offered to do the difficult tasks (like giving Mom a bath), and she gave us only as much information as we needed about what to do with Mom's body after her spirit had passed.
"Take your time," she said. "You don't need to call the funeral home until you're ready. Gather the people who will want to say their final farewells. Sit with your mom as long as you need to. When you're ready, call and they will come to pick her up."
Ann gave us an incredible gift in those final days. Though it was an excruciating week, we knew that we were being held by someone who was only a phone call away.
In the two years since then, I've often thought about Ann and the important role she played in our lives. She was much more than what can fit in the title of "palliative care nurse". She was facilitator, coach, and guide. By offering gentle, nonjudgmental support and guidance, she helped us walk one of the most difficult journeys of our lives.
The work that Ann did can be defined by a term that's become common in some of the circles in which I work. She was

holding space

for us.
What does it mean to hold space for someone else? It means that we are willing to walk alongside another person in whatever journey they're on without judging them, making them feel inadequate, trying to fix them, or trying to impact the outcome. When we hold space for other people, we open our hearts, offer unconditional support, and let go of judgement and control.
Sometimes we find ourselves holding space for people while they hold space for others. In our situation, for example, Ann was holding space for us while we held space for Mom. Though I know nothing about her support system, I suspect that there are others holding space for Ann as she does this challenging and meaningful work. It's virtually impossible to be a strong space holder unless we have others who will hold space for us. Even the strongest leaders, coaches, nurses, etc., need to know that there are some people with whom they can be vulnerable and weak without fear of being judged.
In my own roles as teacher, facilitator, coach, mother, wife, and friend, etc., I do my best to hold space for other people in the same way that Ann modeled it for me and my siblings. It's not always easy, because I have a very human tendency to want to fix people, give them advice, or judge them for not being further along the path than they are, but I keep trying because I know that it's important. At the same time, there are people in my life that I trust to hold space for me.
To truly support people in their own growth, transformation, grief, etc., we can't do it by taking their power away (ie. trying to fix their problems), shaming them (ie. implying that they should know more than they do), or overwhelming them (ie. giving them more information than they're ready for). We have to be prepared to step to the side so that they can make their own choices, offer them unconditional love and support, give gentle guidance when it's needed, and make them feel safe even when they make mistakes.
Holding space is not something that's exclusive to facilitators, coaches, or palliative care nurses. It is something that ALL of us can do for each other – for our partners, children, friends, neighbours, and even strangers who strike up conversations as we're riding the bus to work.
Here are the lessons I've learned from Ann and others who have held space for me.
Give people permission to trust their own intuition and wisdom. When we were supporting Mom in her final days, we had no experience to rely on, and yet, intuitively, we knew what was needed. We knew how to carry her shrinking body to the washroom, we knew how to sit and sing hymns to her, and we knew how to love her. We even knew when it was time to inject the medication that would help ease her pain. In a very gentle way, Ann let us know that we didn't need to do things according to some arbitrary health care protocol – we simply needed to trust our intuition and accumulated wisdom from the many years we'd loved Mom.
Give people only as much information as they can handle. Ann gave us some simple instructions and left us with a few handouts, but did not overwhelm us with far more than we could process in our tender time of grief. Too much information would have left us feeling incompetent and unworthy.
Don't take their power away. When we take decision-making power out of people's hands, we leave them feeling useless and incompetent. There may be some times when we need to step in and make hard decisions for other people (ie. when they're dealing with an addiction and an intervention feels like the only thing that will save them), but in almost every other case, people need the autonomy to make their own choices (even our children). Ann knew that we needed to feel empowered in making decisions on our Mom's behalf, and so she offered support but never tried to direct or control us.
Keep your own ego out of it. This is a big one. We all get caught in that trap now and then – when we begin to believe that someone else's success is dependent on our intervention, or when we think that their failure reflects poorly on us, or when we're convinced that whatever emotions they choose to unload on us are about us instead of them. It's a trap I've occasionally found myself slipping into when I teach. I can become more concerned about my own success (Do the students like me? Do their marks reflect on my ability to teach? Etc.) than about the success of my students. But that doesn't serve anyone – not even me. To truly support their growth, I need to keep my ego out of it and create the space where they have the opportunity to grow and learn.

Make them feel safe enough to fail.

When people are learning, growing, or going through grief or transition, they are bound to make some mistakes along the way. When we, as their space holders, withhold judgement and shame, we offer them the opportunity to reach inside themselves to find the courage to take risks and the resilience to keep going even when they fail. When we let them know that failure is simply a part of the journey and not the end of the world, they'll spend less time beating themselves up for it and more time learning from their mistakes.
Give guidance and help with humility and thoughtfulness. A wise space holder knows when to withhold guidance (ie. when it makes a person feel foolish and inadequate) and when to offer it gently (ie. when a person asks for it or is too lost to know what to ask for). Though Ann did not take our power or autonomy away, she did offer to come and give Mom baths and do some of the more challenging parts of caregiving. This was a relief to us, as we had no practice at it and didn't want to place Mom in a position that might make her feel shame (ie. having her children see her naked). This is a careful dance that we all must do when we hold space for other people. Recognizing the areas in which they feel most vulnerable and incapable and offering the right kind of help without shaming them takes practice and humility.
Create a container for complex emotions, fear, trauma, etc. When people feel that they are held in a deeper way than they are used to, they feel safe enough to allow complex emotions to surface that might normally remain hidden. Someone who is practiced at holding space knows that this can happen and will be prepared to hold it in a gentle, supportive, and nonjudgmental way. In The Circle Way, we talk about "holding the rim" for people. The circle becomes the space where people feel safe enough to fall apart without fearing that this will leave them permanently broken or that they will be shamed by others in the room. Someone is always there to offer strength and courage. This is not easy work, and it is work that I continue to learn about as I host increasingly more challenging conversations. We cannot do it if we are overly emotional ourselves, if we haven't done the hard work of looking into our own shadow, or if we don't trust the people we are holding space for. In Ann's case, she did this by showing up with tenderness, compassion, and confidence. If she had shown up in a way that didn't offer us assurance that she could handle difficult situations or that she was afraid of death, we wouldn't have been able to trust her as we did.
Allow them to make different decisions and to have different experiences than you would. Holding space is about respecting each person's differences and recognizing that those differences may lead to them making choices that we would not make. Sometimes, for example, they make choices based on cultural norms that we can't understand from within our own experience. When we hold space, we release control and we honour differences. This showed up, for example, in the way that Ann supported us in making decisions about what to do with Mom's body after her spirit was no longer housed there. If there had been some ritual that we felt we needed to conduct before releasing her body, we were free to do that in the privacy of Mom's home.
Holding space is not something that we can master overnight, or that can be adequately addressed in a list of tips like the ones I've just given. It's a complex practice that evolves as we practice it, and it is unique to each person and each situation.
It is my intention to be a life-long learning in what it means to hold space for other people, so if you have experience that's different than mine and want to add anything to this post, please add that in the comments or send me a message.
************
Sankalpa
Setting your heart's desire
Give your New Year's resolutions a yogic twist—set an intention and infuse the new year with positive change.
A new year's resolution is a noteworthy concept—start off the year with a change for the better. So how did it devolve into a subconscious exercise in self-loathing? Lose 10 pounds! (Message to self: You're fat.) Stop drinking caffeine! (You're unhealthy.) Call Mom and Dad once a week! (You're ungrateful.) Why not celebrate this new year by trading in your tired (and probably familiar) resolutions for a

sankalpa

instead?
POSITIVE POWER

A Sanskrit word,

sankalpa

means "will, purpose, or determination." To make a sankalpa is to set an intention—it's like a New Year's resolution with a yogic twist. While a resolution often zeros in on a perceived negative aspect of ourselves (as in, "I want to lose weight, so no more chocolate chip cookies or ice cream or cheese"), a sankalpa explores what's behind the thought or feeling ("I crave chocolate chip cookies or ice cream or cheese when I'm feeling stressed or sad. I will set an intention to become conscious of this craving and allow my feelings to arise and pass, rather than fill up on fats").
EFFORT COUNTS

A sankalpa also praises the nobility of the effort rather than focusing on what you are doing wrong. "New Year's resolutions leave me feeling guilty and mad at myself for not keeping them," says Wendy McClellan, a yoga teacher in Louisville, Kentucky. So, last year, in a conscious effort to reject the resolution rut, she taught a special New Year's Eve yoga class and encouraged students to look back and let go. Her intention, or sankalpa? To open her heart to new possibilities. "An intention has much more of a global sense than a resolution," she says. "It helps me be softer with myself." With a sankalpa, the self-loathing that comes from dwelling on past transgressions can begin to dissolve. In its place is an exercise in effort and surrender—create an intention and open yourself to the universe.

Sankalpa Setting
LOOK INWARD For several days, set aside time to write in a journal and meditate. Mull over your typical resolutions. How do they make you feel? Anxious? Unsettled? Incomplete? Now contemplate how you would like to feel during the coming year. Is there any way you can reframe your results-oriented resolutions into something that will make this year's journey more joyful and worthwhile?
REPHRASE IT Create a short sentence or phrase for your sankalpa. Be careful not to set limitations based on fear. For example, instead of "May life bring me only happiness and joy this year" consider "May I be happy and open to what life brings me."
BE FIRM BUT FAIR Change doesn't happen overnight. When you stray from the essence of your sankalpa, don't berate yourself. Instead, gently remind yourself of your intention. But be firm in your resolve—it's a good idea to incorporate your sankalpa into yoru daily routine. Use it as a mantra during pranayama or meditation practice; post it on your computer, phone, or mirror; or simply say it to yourself quietly before going to sleep.
—C.G
Catherine Guthrie is a writer and yoga teacher in Louisville, Kentucky, and a regular contributor to Yoga Journal.
Mudra
Connection to Earth – Gesture of the Little Finger

Holding palms in front of the solar plexus, gently place the tips of the pinky fingers together relaxing all other fingers inward. Relax the shoulders down the back, elbows held away from the body, forearms parallel to the earth and the spine naturally aligned.

Benefits of this mudra are: deepening our sense of embodiment and connection to the earth, the health of the skeletal system, reducing stress and high blood pressure, and supporting balanced elimination.

In the physical body, you may feel the breath being directed and awareness to the pelvic region. Activates the downward moving energy current and opens and balances our first chakra (safety). In our psycho-emotional body, it may instill a sense of grounding and security and cultivate relaxation and tranquility. We may attune more easily to our true inner being, whose essential nature is safety in our wisdom body. As we connect and become more embodied with the earth, a deep sense of comfort and well-being may arise naturally within the base of our body.

LePage, Joseph, and Lillian, Mudras for Healing and Transformation. Integrative Yoga Therapy. 2014.

The Poses
Childs Pose
Benefits: Gently stretches the lower back, relieves shoulder tension and quiets the mind. Give a sense of security. Feeling support and release.
Extras:sandbag for sacrum
Place bolster in front of you and a blanket on your lap with one end folded over. Before folding into the shape of childs pose, inhale to lengthen the spine. Rest your forehead on the bolster with space to breathe easily. Adjust blanket if it is too confining. If you feel tension in the ankles or behind the knees, add another blanket. Stay for up to 5 minutes.
Revolved Abdominal Twist
Benefits: Gentle twist for the spine (quadratus lumborom) Releases stress on the back muscles and a stretch to the intercostal muscles. As muscles relax, breathing is enhanced.
Set one bolster lengthwise on your mat. Depending upon your comfort, height can be elevated with blocks under bolster. Lay one blanket on top double-fold and one double-fold at end of bolster where your right hip will go. Sit next to bolster with your right hip touching it, bend knees, left or top ankle can lay in arch of right foot or other comfortable position for feet. For added comfort, place blanket between legs. Lengthen body over bolster, laying bent legs in one directions and upper body facing down on bolster. Arms drape down sides of the bolster.
Reclined Bound Angle (Supta Baddhakonasana)
Props: bolster, 4 blocks (or firm cushions, pillows or rolled-up blankets), 4 blankets and one extra blanket for warmth, strap and eye pillow
Place a block lengthwise under one end of a bolster to prop it up on an incline, add another block under bolster for stability. We used the wall in this week's class placing the bolster at a higher elevation. Place a double-fold blanket on floor next to low end of bolster and a long rolled blanket on top next to bolster (for sacral support). Sit with your back to the short, low end of the bolster. Place two blocks where your knees will rest (can top with a soft blanket or use other props as necessary for propping knees) Bring your legs into Bound Angle Pose with the soles of your feet together. Wrap a blanket around your feet to create a feeling of containment. Lie back on the bolster. Place supports under your arms so tha
t they are not dangling and there is no feeling of stretch in the chest. Stay in the pose for 10 to 15 minutes